My top-bucket list item is to operate a crane. What is it about construction vehicles that's so fascinating? Especially young children absolutely love all things construction – what better way to get some learning in than with their favourite topic?
If you're a parent or teacher looking for an easy, go-to resource list for a construction vehicle theme (and some special offers from yours truly!), then you're in the right place.
In this blog post, you'll find a list of construction-themed printables, hands-on activities and crafts for preschoolers. I've also included a song/video and apps list and easy ways to find more ideas and inspiration for construction vehicles activities. Let's dig in!
Why do a Construction Vehicle Theme?
Themes are a great way to extend learning at home or at school. They allow you to integrate subjects, deepen the learning experience and, more than anything else, make subject content fun and relevant!
Themes for preschoolers can last anything from a few days to a few weeks. I personally like doing month-long themes.
They
allow for a natural interest to develop,
let kids really engage with the materials,
leave enough time for repetition and
take the stress out of theme prep.
Because a theme is an extension of the learning that's happening anyway – whether in the classroom or at home – there's no need to completely overhaul your environment every time. Simply swap out a few key lessons, change the posters and get some relevant books.
A construction vehicle unit study is perfect for preschoolers and toddlers! It's easy to incorporate lots of movement. You can take it inside or outside and it's especially suitable if you have a building site nearby (or work in construction).
The big machines and specific vocabulary spark genuine interest you can use to introduce topics your child/ren may usually feel hesitant towards (such as counting with the Dump Truck Zero Game included in our Construction Vehicle Bundle!).
There's virtually no reason not do to a whole range of lessons on construction vehicles!
List of Construction Vehicle Lessons
Now to the good stuff! To spare you some time putting together your construction vehicle study, I've compiled a list of relevant activities and resources.
First, I feature our very own Construction Vehicle Bundle that you can get at 20% off in English OR German (or get both languages for the full price of one!).
Then, there's a list of construction vehicle activities, sorted by hands-on, printables and crafts. Lastly, you'll find a list of songs, videos and apps about construction vehicles.
If you have your own good ideas, leave me a message or comment and I'll check them out!
If all of this information isn't enough for you, you'll also find some ideas where to find more inspiration at the end.
Our Construction Vehicle Bundle
Construction vehicle classified cards
Parts of a front loader nomenclature cards
Dump truck zero game
Construction Vehicle Tracing Templates
Get it here for 20% off (matching cards in English & German).
Hands-on Construction Activities
Sensory Bins
Image by Modern Preschool
| | | | |
| --- | --- | --- | --- |
| Age Range |  2-6 years | Subject/s | sensorial, language |
| Special Materials? | tub, filling, construction toys | Prep Time | 5 minutes |
| Multi-use? | yes | Comments |   |
Movement Activities
Image by Royal Baloo
| | | | |
| --- | --- | --- | --- |
| Age Range |  2-6 years | Subject/s | sensorial, language |
| Special Materials? | no | Prep Time | 5 minutes |
| Multi-use? | yes | Comments | get Royal Baloo's free movement cards for some reading practice |
Construction Maze
Image by Hands On As We Grow
| | | | |
| --- | --- | --- | --- |
| Age Range |  2-6 years | Subject/s | sensorial, language |
| Special Materials? | chalk, construction toys | Prep Time | 5 minutes |
| Multi-use? | yes | Comments | let your child draw the maze! |
Construction Vehicle Printables
2-Week Unit Plan
From Mommy is My Teacher
30 construction vehicle themed printables based on core standards.
Printable Construction Worker
From Learn Create Love
Simple printable with a craft element.
Construction Crafts
Construction Vehicles Art Project
From Craft Play Learn
Truck Crafts for Kids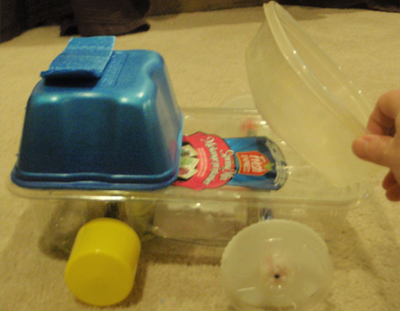 Songs, Video and Apps About Construction Vehicles for Kids
Apps
Cars in Sandbox (through EdShelf) $2.99 (iOS)
Construction app list from Tech with Kids
Construction & cars app list from USA Today
Motor City: Best Fun from Scholarific - download for free (iOS)
Sonds & Videos
Google Search for Construction Vehicle Songs for Children
Construction Vehicles - YouTube Playlist from TinoKidsTV (we love these in our classroom!)
Need more inspiration?
Hands on As We Grow: 35 Transportation Activities for Preschoolers - Things That Go!
Mommy is my Teacher: 10 Hands-On Preschool Construction Activities
Living Montessori Now: Free Consctruction Printables & Montessori-Inspired Construction Activities
Living Montessori Now: Montessori-Inspired Construction Unit